Heart of vinyasa
yoga school
and 200 hour
teacher training
2020
Dive deep into this heart-centered practice. This is not only a 200-hour yoga teacher training certification program, but truly an education in yoga. This training is recommended whether you want to teach, explore your personal practice, or, if you already teach, to deepen your intuitive approach and connection with the students you currently serve. The Heart of Vinyasa Yoga School will help you tap into your confidence and open up to service by inspiring others through offering your authentic self. This program will grow you as a leader in whatever capacity you serve. It's so much more than asana — transformation begins on the mat to make the difference off the mat and within our communities. We ARE the change.
This will not be an easy program. It will require effort and willingness to do the work and turn inward. Through turning in you will open to intuitive teaching and leading with compassion, empathy, and connection to those around you. The very nature of Burning Spirits Yoga's Heart of Vinyasa School is meeting those where they are, and showing them what is possible, and holding supportive space where one is safe to open, heal, and serve. Graduates of the program will learn how to teach with their voice to engage with the students. They will have a basic understanding of anatomy for yoga teachers, and start the lifelong exploration of yoga philosophy. This sets the stage for even deeper exploration, as we firmly believe we are forever the student.
This program includes weekend intensives, workshops, lectures, and hands-on practicum. Due to the intentional small size of the program students will be mentored by Sandee Lawless throughout the course, in addition to having a past graduate mentor assigned to assist. The training will be specialized upon students' interest and will flow naturally, setting an example of how to listen and lead with intuition and fluidity. Completing the Heart of Vinyasa Yoga School certifies teachers and awards them with the credit hours needed to register with Yoga Alliance if that is path the graduate chooses take.
Faculty
Guest faculty/master teachers are key to Heart of Vinyasa Yoga Teacher Training. We are proud to be partnering with some of the most respected teachers in Philosophy, Meditation, Ashtanga, Bhakti and more. They come from Portland, San Francisco, Philadelphia and beyond. Yoga Punx Founder Khristine Jones will kick off the first weekend of teacher training with an Ashtanga Intensive.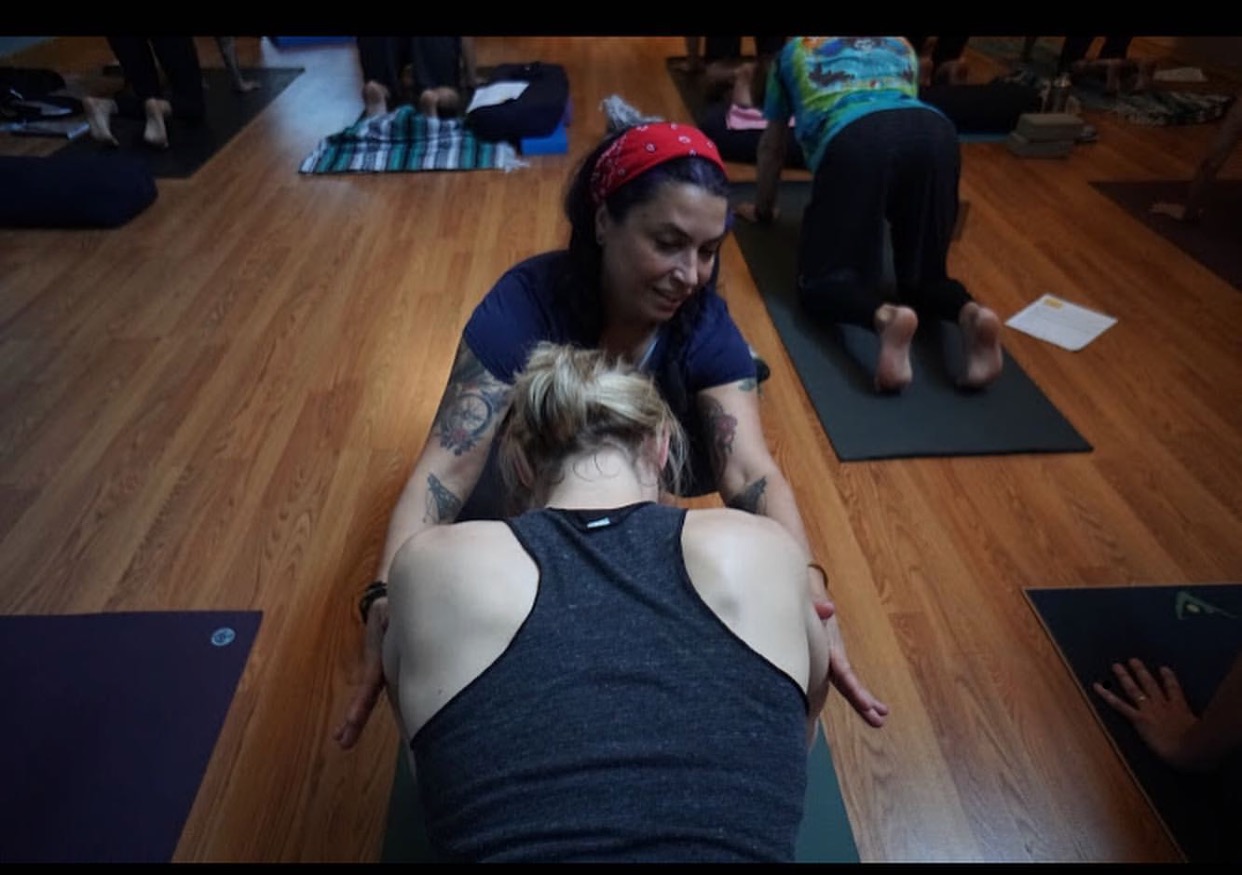 KHRISTINE JONES, Yoga Punx Founder , Owner, 9th Limb yoga and Central Coast Ashtanga
Owner, Near East Yoga
Yoga Sutra Study
Owner, Palo Santo Wellness Boutique
Bhakti and Bhagavad Gita Study
Home Study
This is a sacred practice, and our program endeavors to honor this practice and to open doors for the participants for continued and deeper study into the philosophy and methods of Yoga. We will be reading and studying sacred texts, various traditions and lineages, and much more.
You will be required to complete weekly home study assignments comprised of reading, writing, chanting, and meditating a month before our gathering and during the times between sessions. Consistent, 6 day per week asana practice is recommended during the training and you will be given an unlimited Monthly Pass for BSY to develop a routine practice during your training.
You have the opportunity to teach public and private Community Classes at Burning Spirits Yoga during your training, should you choose to do so.
Thank you for considering Heart of Vinyasa Yoga Teacher Training and School at Burning Spirits Yoga. Come be the Change.
Class Schedule
TWO TRAININGS! — NE Portland & St. Johns
NE Portland Training
May 1st — May 10th, 2020
May 29th — May 31st, 2020
June 12th — 14th, 2020
June 26th — 28th, 2020
Session times 8:30AM- 5:00PM
Graduation Weekend!
July 10th - 12th, 2020
Session times are 9:00am — 5:00pm
St. Johns Training
All sessions are at ShantiOm
August 28 — September 6, 2020
September 25 — 27, 2020
October 9 — 11, 2020
October 23-25, 2020
Session times are 8:30-5:00pm
Graduation Weekend!
November 6-8, 2020
Session times are 9:00am — 5:00pm
Other info and how to apply
Due to the intimacy of our program, class size will be limited to 12.
There is a discounted lodging option for those out of town participants, inquire for more details.
We do ask that you complete the application (includes short essay questions) so we can get to know you better and target our training to your specific needs.
Tuition and Payment Plans
Early Early bird by September 1, 2019: $2700, limit 3 slots — NE PDX SOLD OUT ! ( for Spring 2020)
Fall 2020 in St. Johns 3 AVAILABLE- Registration is NOW OPEN.
Early bird between September 2, 2019- January 1, 2020: 3 slots at $2950…. NE PDX SOLD OUT! (for Spring 2020)
Fall 2020 in St. Johns 3 AVAILABLE.
After February 1, 2020: $3200. NE PDX has slots still available.
*Books not included in tuition prices.
Need some time to pay the tuition?
We can help! $500 ( or other agreed upon amount) non-refundable deposit with payment plan options available. There will be $150 tuition surcharge on Payment Plans. Each plan is created unique to the individual student needs. Inquire at burningspiritsyoga@gmail.com.
TESTIMonials
I was so ambivalent at first about whether or not I wanted to commit to a teacher training. I checked out a lot of different teacher training programs locally as well as out of state and out of country but was really drawn to this one. I had been practicing yoga daily for close to two years and I knew that my practice was dear to me but some guidance was missing in my spiritual path. I was at a stand still and decided to dive in as a way to learn some of the foundations I may have been missing out on in my asana practice. What I got from the teacher training was so much more then I expected, not only did I open the door for the lifelong study of asana but also gained an understanding of why we practice, a set of spiritual principles to move forward with, support, community, and an understanding of what it means to have a teacher.
Am truly grateful for this life changing experience.
SCOTT P.

I received a Yoga Punx scholarship to attend the Heart of Vinyasa teacher training. I'm so grateful for Yoga Punx's support in helping me! Teacher training was a life changing experience for me, a really beautiful unfolding and deepening of my yoga practice and my commitment to serve others. Through the support of that scholarship, I now serve the Yoga Punx community as a teacher and as Vice President of Communications on the Yoga Punx Board of Directors. In that capacity I manage the Yoga Punx and Burning Spirits Yoga websites as well as do grant writing for Yoga Punx. It is a joy to serve this community and I am so grateful to the Board for allowing me to do so.
MANDI H.